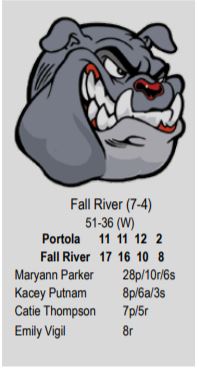 The Fall River lady Bulldogs varsity squad looked to be the dominant team at the Burney Jamboree with their 51-36 win over Portola Thursday. But the team's bid for the tourney championship was cut short by the weather bringing an end to their preseason.
The lady Bulldogs (7-4) dominated the game with their post players. Emily Vigil scored the first two baskets of the game and Fall River jumped out to a quick 14-6 lead.
The lady Tiger was able to drop the deficit to five to close out the quarter. Fall River started the second with an 8-2 run. Megan Gallion and Kacey Putnam worked the giveand-go for a bucket and Maryann Parker hit a couple mid-range jumpers for a 25-13 lead with 3:44 left in the half.
The lady Tigers turned in a strong third quarter performance and closed the gap to three with the score 37-34. Fall River finished the quarter on a 6-0 run. Gallion stole the ball and ran the floor with Putnam for the lay in and Parker banked in a pair from down low for a 43-34 lead to start the fourth. The lady Bulldogs held Portola to just one basket in the final period while adding eight for the 51-36 victory.